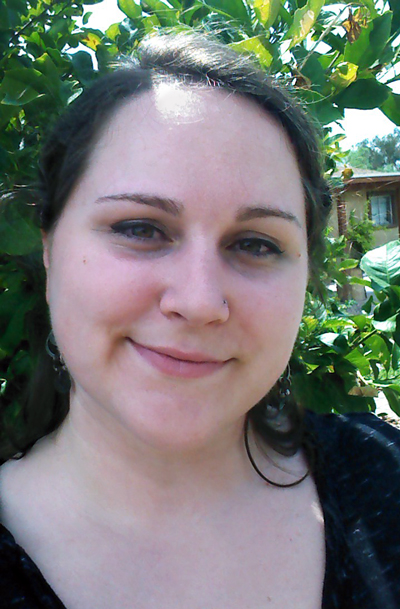 Hello! I am Emily "Emma" Lysyk. I was born to a Canadian and a Texan, both of whom are entomologists, in a state that was neither of those places. I live in Phoenix, AZ with her husband and rescued menagerie of the feline, canine, and fishy varieties. When not combining analog and digital tools to make graphic design magic, I enjoy playing ancient video games and reading by firelight. This is my webcomic.
History of Em²a
Em²a came into being my freshman year of high school. She's an extension of myself, my "inner redhead" if you will, and my outlet for thoughts, funny comments, responses, etc. about stuff that happens in my life. She has helped me to visualize and document my changes through four different high schools, 5 different states, and many experiences.
Just after high school, I began taking my drawings and doodles of Em²a and putting them into a comic-style order. I shared some of these with my friends, but mostly kept them to myself, not really sure what to do with them. With some prodding, my friend, "Rudie", convinced me to start posting these drawings online, just like the comics we had been reading on the web.
I started with a Yahoo! site, then DeviantArt, then built to my own site. As I learned more web coding and more about CMSes, I eventually ended up with the WordPress site you see here.
Em²a Cartoon has evolved into a web comic about Life & Art. She is often up to crazy antics, and you never know what she is going to say next. Her accomplices include her roommates: Mandy and Mikey; her imaginary boyfriend from outer space: Orion; her husband: G; the quirky feline quintet: Yin, Yang, Samus, Ashley J. Williams, and Sheba; the canine juggernauts: Jesse and Breic; and the puffball of doom +3: Sonny.
A little about me..
My interests are broad and encompass most of the majors available to a media arts student, and as such I am a professional student in addition to working as a full-time graphic designer. I have not obtained a degree (yet), but I am well-versed in many of the available programs with more than 12 years of experience under my belt.
I have been around computers all my life. From our Tandy 1000 TX at age two, owning my very first PC (486 mHz, Win3.11) at age six, making little cartoons from clipart at age eight, to coding HTML and JavaScript at age 12. I've been making art since before I can remember, so marrying the two technologies was only natural for me.
I have many hobbies, which can be simplified to most subjects pertaining to the arts, computers, science, nature, old skool gaming (NES, Sega Genesis), and coffee.
My favourite drink is a dirty hippy (soy chai, add shot).
My main site, for which Em²a Cartoon is a project, is Em2aStudios.com
Contact:
I am available by e-mail at .
Please allow a 48 hour response time in case I have other commitments and cannot get to my e-mail for a day or two.
Disclaimer stuff:
Copyright
As you see below, all my stuff is Copyright me.  What does that mean?  No stealing.  If you want to use something, ask.  I will leave it up to MY discretion on a case-by-case basis. This includes linking images. I do have a limited bandwidth, and bandwidth stealing is indeed theft.

All content Copyright me. I reserve all rights to my content and art. If you want to use/post/etc., you need to get permission first.
Commenting
I, Emily Lysyk, and anyone I deem an administrator have the right to edit, delete, and block any and all inappropriate or unnecessary comments on this blog, as I/they see fit. No trolling, no name calling, no trouble.  There are no wrong opinions, just ones you don't have to agree with.  Be nice and play fair.